Backed By Over 20 Years of Experience
When you find yourself up against the U.S. immigration system – a complex maze that can seem impossible to conquer – you need the help of a trusted advocate. At J. Sparks Law, PLLC, our immigration lawyers deliver the high-quality legal representation you need to effectively navigate the road ahead. Our attorneys are determined to fight for your rights and help you achieve your American dream.
We Value Each and Every Client Nearby Austin Area
We see you as much more than a case number – in fact, we treat every client like a member of our family. Our team cares about your success and the outcome of your immigration case. We recognize that our representation can have a profound impact on your future and we do not take that responsibility lightly. Rather than apply a cookie-cutter approach to your case, we take the time to develop personalized strategies that have been tailored to your unique situation.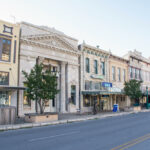 Immigration Legal Services in Austin
Serving Clients in Austin Area and Throughout Texas
The U.S. immigration system is a complex maze of intricate laws, unclear processes, and hoops to jump through. People often face difficulties achieving success in pursuing their immigration goals without the assistance of a knowledgeable and experienced lawyer. As a board-certified attorney in immigration law, Julie Sparks is well-versed in U.S. immigration laws and policies. She and her team are dedicated to helping you achieve your goals.
With well over twenty years of combined legal experience, the attorneys at J. Sparks Law, PLLC have what it takes to see your case through to the end and beyond, if an appeal is necessary. When you retain our firm, you can rest assured that your case will be handled with great care and that your needs will be prioritized every step of the way.
Consult J. Sparks Law, PLLC by calling (512) 952-2176 or contacting us online. Our services are available in Spanish! Call today.
What We Offer
At J. Sparks Law, PLLC, we offer a wide range of legal services for most types of immigration cases. We routinely assist clients seeking visas, green cards, and citizenship.
Our compassionate Immigration Lawyer Austin is also dedicated to helping individuals who face the threat of removal from the U.S. or physical violence in their home country, handling VAWA, DACA, asylum, Green cards, and deportation defense cases.
In addition to all these cases, we also handle appeals. Our lawyers have extensive experience fighting injustice in the American immigration system.
What are the Main Family-Based Immigration Visas? 
As explained by the U.S. Department of State, Bureau of Consular Affairs, foreign citizens seeking to live in the U.S. permanently must acquire an immigrant visa (IV). To be eligible to apply for an IV visa:
The foreign citizen must be sponsored by an immediate relative who is 21 years of age or older and either a U.S. citizen or a U.S. Lawful Permanent Resident, meaning that they hold a Green Card.
There are two types of family-based immigrant visas: 
Immediate relative – this visa is based on a close family relationship with a U.S. citizen, including a spouse, child, or parent. This category of visa is not limited to each year. 
Family preference – the family preference visa is for specific, more distant family relationships with a U.S. citizen or particular relatives with Lawful Permanent Resident status. This category of immigrant visas is limited each year.
Determining which immigrant visa you may be eligible for requires consideration of your family, their U.S. citizenship status, and whether or not the type of visa you are pursuing has met its annual quota. An immigration lawyer from J. Sparks Law, PLLC, can advise you on what your best pathway to U.S. residency might be.