What Happens in a Visa Interview?
By Julie Sparks in Visas and Green Cards | on 2023-01-19 15:21:01

What Happens When You Are Asked To Go For An Visa Interview?
When applying for a U.S. marriage visa or another type of U.S. visa you may be required to appear in person for an interview. Not all visa applications require an interview. If you have been asked to go for an interview, then you must go. 
An interview depends on where you are physically located and the type of visa you are applying for. If you are in the United States, the interview will usually be conducted at the nearest USCIS office. If you are in the United States but have a situation that requires you to leave and apply for a visa outside of the country. The process can only be done at any U.S. consulate which accepts your case there.
An application for a visa for someone living outside the United States, the applicant can only apply for the visa at the consulate. Applicants must apply for an interview in the country U.S. consulate where they live. Anyone facing a visa interview should discuss the matter with an immigration attorney. 
Questions You Might Expect at Interview in the U.S.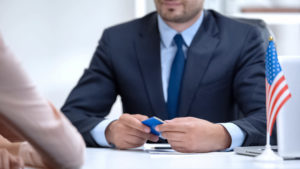 To clarify there are two typical types of visa applications. The first one requires an interview at your nearest USCIS office and the second one is just for adjustment of status for asylum.
An application for adjustment of status is the same thing as an application for a green card. Whether your application for a green card is family or employment-based, you can expect to be called for an interview.
If it is a family-based green card application, the questions you can expect are related to your familial relationship. For example, if your application is based on marriage to a U.S. citizen or permanent resident, then the interview will focus on questions that show how well you know each other as a married couple and to test whether your marriage is real and not intended to circumvent U.S. immigration laws.
Questions You Might Expect at a U.S. Consulate Interview
Consular and the USCIS office interviews are exactly the same if you are applying for a family-based green card. The visa officer will be asking you questions to determine whether the family relationship you claim is real. Just having documents on file that show the legal relationship is not enough as those can be obtained in circumstances where the relationship does not exist in fact. 
If you are applying for a temporary non-immigrant visa – such as a student or visitor visa. You can expect questions that seek to confirm whether you intend to return to your country. Under the expiration of your visa validity.
The focus for a non-immigrant visa interview is on what your ties are in the country from where you seek the visa, such as your employment history, business or property owned, and whether you have previously applied for a visa to the U.S. 
An Austin Visa Lawyer Can Help
If you have been called for an interview for a visa interview, contact us at J. Sparks Law, PLLC, today for a consultation regarding how best to prepare for that interview.

Julie Sparks is Board-certified by the Texas Board of Legal Specialization in Immigration and Nationality Law, one of a few such attorneys in Texas. After 15 years of practice in this field, she has represented immigrants from more than 70 countries.
Ms. Sparks is a member of the Texas Bar Association and the American Immigration Lawyers Association (AILA). Julie has also been a featured speaker at Southwestern Law School and at the national 2015 AILA Fundamentals Conference.
15 years of practice in this field.
She also founded and managed a non-profit organization representing indigent immigrants seeking asylum.
Julie is a former immigration law instructor at the Pepperdine School of Law in Malibu, California, and California State University – Los Angeles.